Cam girl job
Make money easy at Your home
Being a webcam performer is one of the easiest and safest ways to make money in the adult industry. A top cam model can earn thousands per week working less than 30 hours. Becoming a top cam model, however, is easy but takes a bit of effort. If you're serious about making money read on as I will give you some helpful tips to make your work more enjoyable for your guests and more profitable for you.


Basic facts:


Make the hourly wage of a company executive
Earn money from the comfort of your home, as a part time or full-time job
Set your own schedule, work when you want, as much as you want.
Your privacy is protected, only those you want can see you
Get a chance at special appearance and cash prizes in LiveJasmin's Performer awards
Get paid every two weeks (they will even give you a free ePassporte or Payoneer debit card for
free if you sign up as a cam model, either of these two are the easiest way to get paid.
Have the option to chat only with paying members
Easy registration, user-friendly interface


Know a lot of guys/girls who might be interested in becoming a cam model? If you know a lot of people that want to be cam models, and you like to be in a manager position, there is another popular option where you set up a webcam studio. This means that multiple models work from the same computer/room. Sign up models under your account, and have cam models working under you in your own studio. Payouts for all the models, go to the studio account, and the studio manager pays the models according to whatever agreement they have.

In this case you need to use the 'advanced', or 'master account' registration here




Checklist
What you will need:
Computer
Broadband Internet Connection - as fast as possible
Webcam or a camcorder and a capture card
Scanner
Printer
Registration step by step
Choose Click Here to Register button.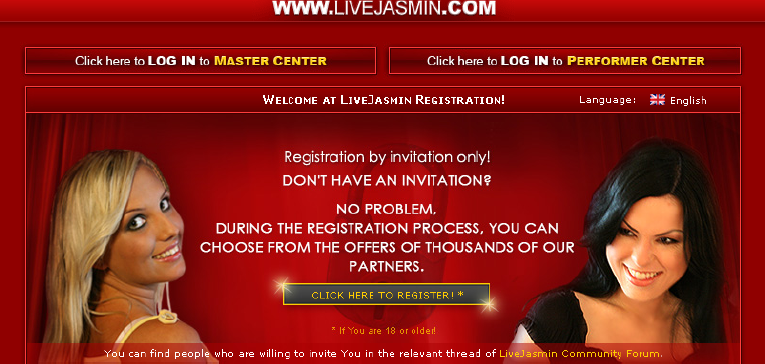 Select Easy Registration. Easy = Only one registered person can perform under the account. (so if you're going to cam with another (or more:) guy or girl as a couple or threesome,etc. you will need to pick "Advanced Registration", the "Easy Registration" is for solo cam models only) Advanced = Limitless models can be registered under this account type (this is recommended for studios and couples, threesomes,etc.)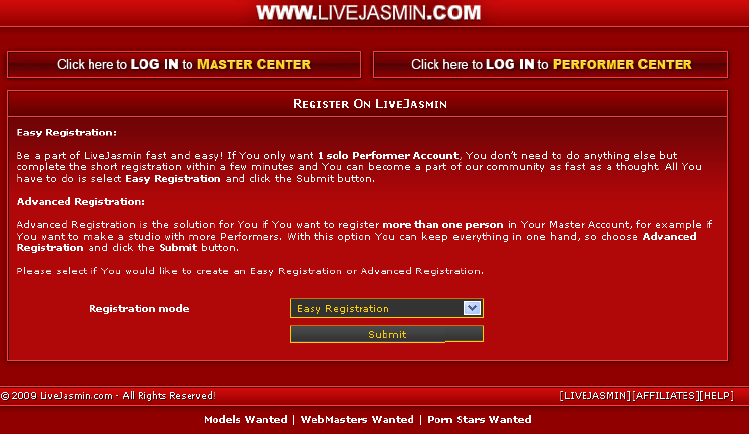 Type Your account details (and be sure to note them so you don't forget), check the Accept Terms And Conditions checkbox, click on Register Master Account afterwards.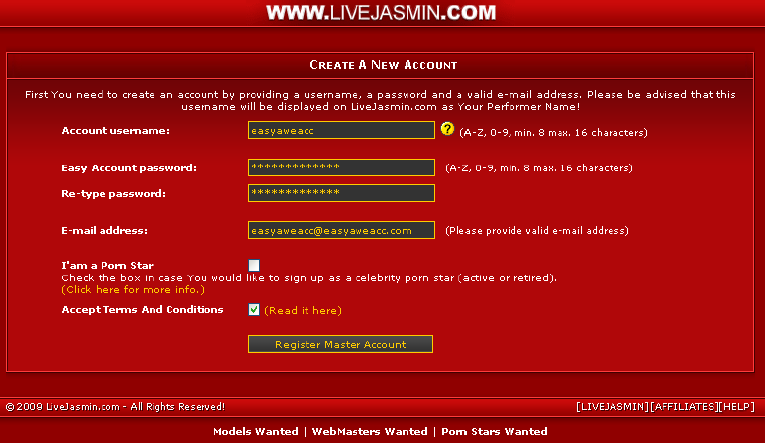 Select Referrer

In order to continue your registration you must choose a Referrer/Patron (because cam model registration for LiveJasmin is currently invite only). Enter exr into the box and click on Submit. (If this page says "You have been invited by a friend of Yours exr" proceed to the next step.







Fill out the necessary forms correctly and click the Submit button.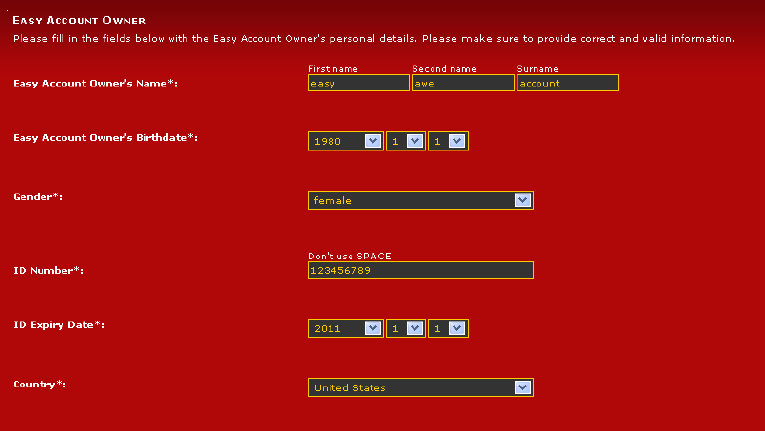 Click on Performer Agreement Download/Upload button. Download the LiveJasmin Agreement by clicking on Download Age Doc button. Print the document and fill it out by hand (be sure not to make any corrections). Then scan the document. Click the Browse button and find the image on your computer. After uploading all pages of the Agreement click on the Next button.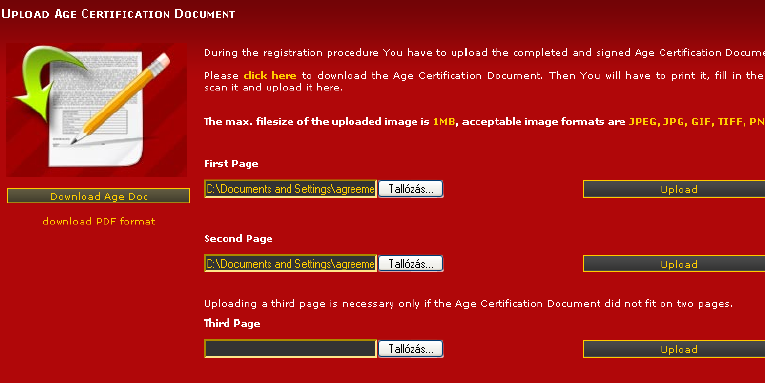 Click on ID Photos - Upload button. Upload your previously scanned, government issued photo ID by clicking on the Browse button. Select Submit afterwards. Go back to the master account landing page by clicking Next.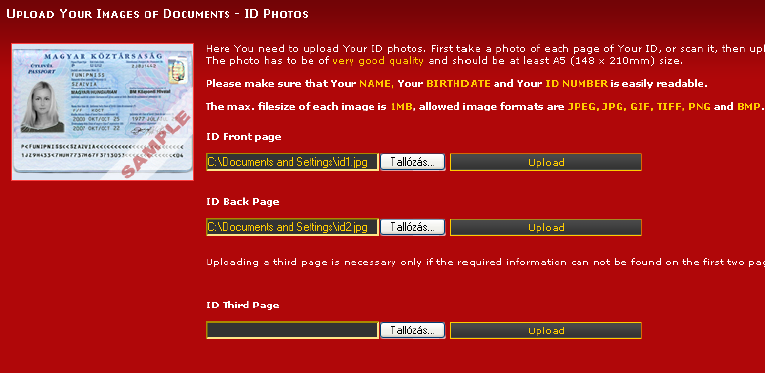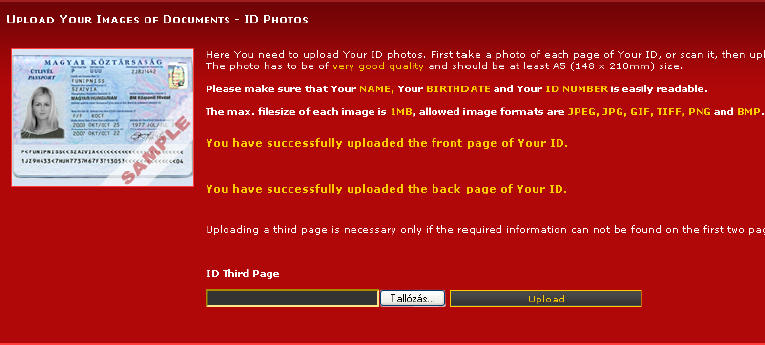 Select Face Photo - Take Snapshot button. Show Your face to the camera, be sure you are recognizable. Select Click Here To Take Snapshot. If you are satisfied with the result, click the Submit button. If you wish to try again select "Select Face Photo - Take Snapshot button. Show Your face to the camera, be sure you are recognizable. Select Click Here To Take Snapshot. If you are satisfied with the result, click the Submit button. If you wish to try again select "Are You satisfied with Your current picture? If not, click here to take a new one" button. " button.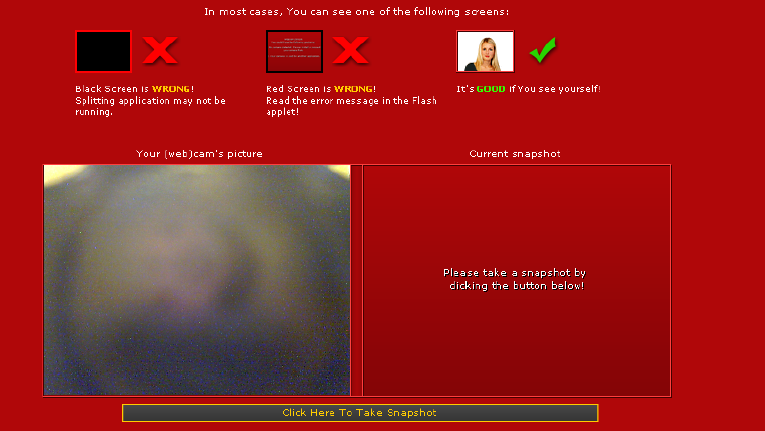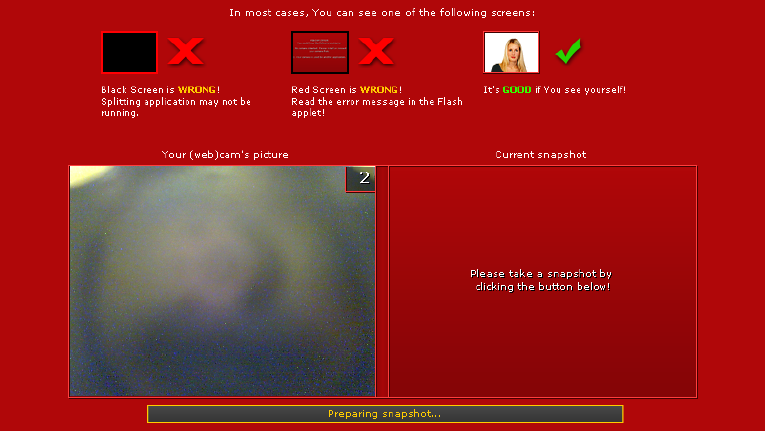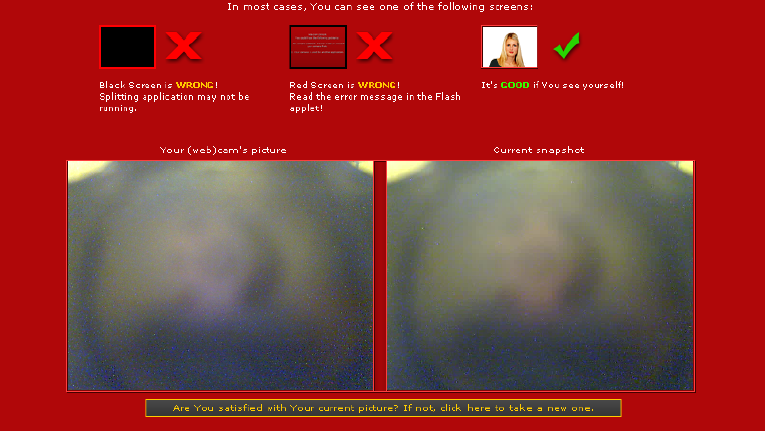 Choose Face And ID Photo - Take Snapshot button. You must hold your government issued photo ID next to your face. Hit on "Click Here To Take Snapshot" button to go to the next step.






Choose Person's Bio Data - Set Bio Data button. Select a name that Members will call you. This name will be displayed on your Biopage. Fill all the necessary forms correctly and hit on Submit.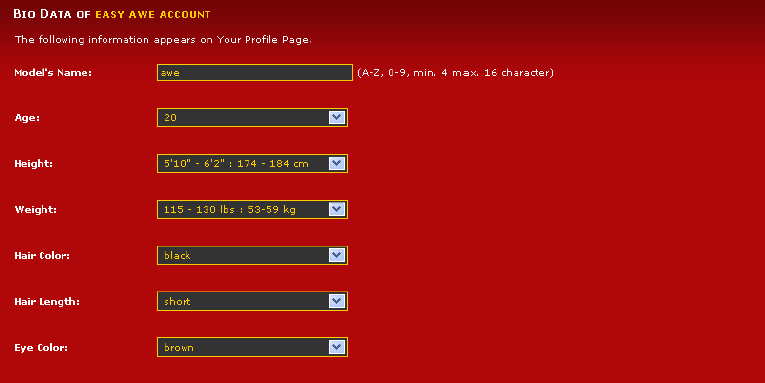 Choose the Payment Method - Choose Payment Method button. Select Your desired Payment Method by checking the right radio button. Click on Submit.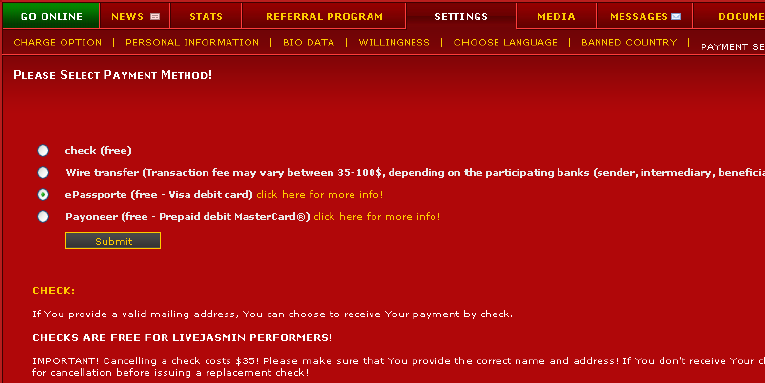 Set the minimum payout limit which will be the minimum amount that you have to reach in order to receive your payment. If you do not reach the payout limit in a period, your money will roll over to the next period until the minimum is reached.





If you are confused or lost in the process, go to: http://www.livejasmin.com/info.php They are always very helpful in answering questions, and helping models through the registration process.